How to view the VR Experience
Step 1: Click this link > Watch on YouTube
Step 2: Click and drag the mouse inside the video area to move the view 360 degrees
Step 1: Tap this link > Watch on YouTube
Step 2: Turn your device to landscape mode to view it fullscreen
Step 3: Keeping your device in front of you, move 360 degrees to experience the entire scene
Step 1: If you don't have it already, you'll need to download the YouTube app for your device first. 



( Google Play Store | Apple App Store)
Step 2: Tap this link > Watch on YouTube or scan the QR code to load the video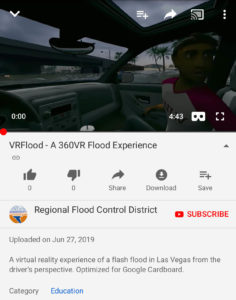 Step 3: Once the video is loaded, tap the VR icon (highlighted) to switch into VR mode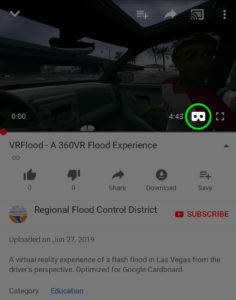 Step 4: Put your device into your Cardboard Viewer for the full experience
WARNING:
Some people may experience motion sickness, nausea, disorientation, blurred vision, or other discomforts while viewing virtual reality content.
If you experience any of these symptoms, stop using them immediately and remove the VR headset.
WHY FLOOD VR?
We're driving you through a virtual reality flood
so you never try it yourself in actual reality.
TESTIMONIALS
What viewers have to say
OMG! This felt so real. It was scary! I'll for sure think twice before driving through a flooded street again!
I knew we had flooding in Vegas, but I had no idea it could be so bad. I'll be way more careful during flood season.
I know friends that take their trucks through flooded streets. I'm going to get them to watch this!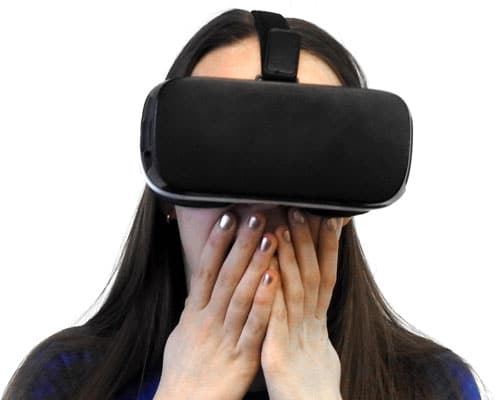 AWARDS AND ACCOLADES
FloodVR Recognition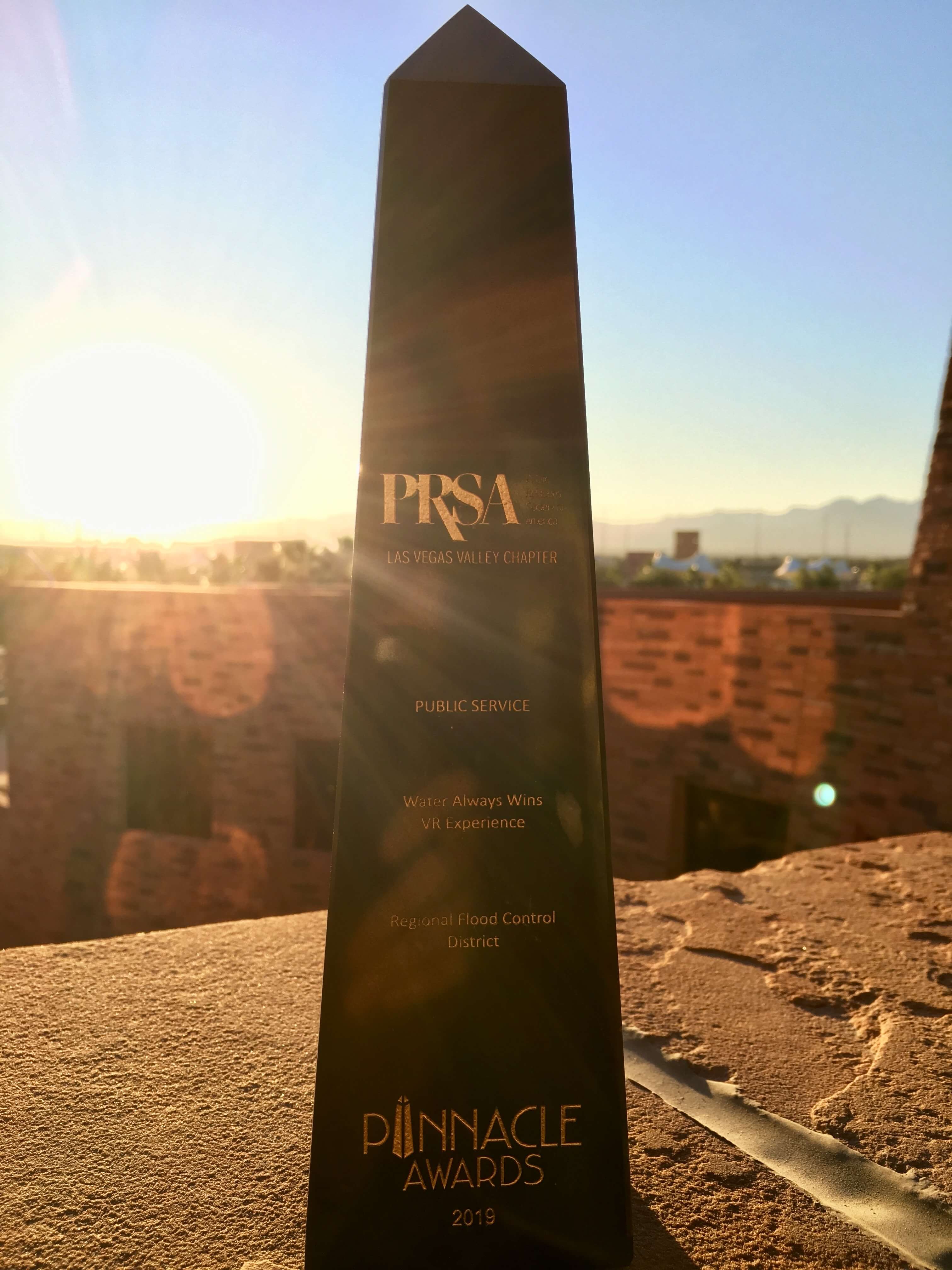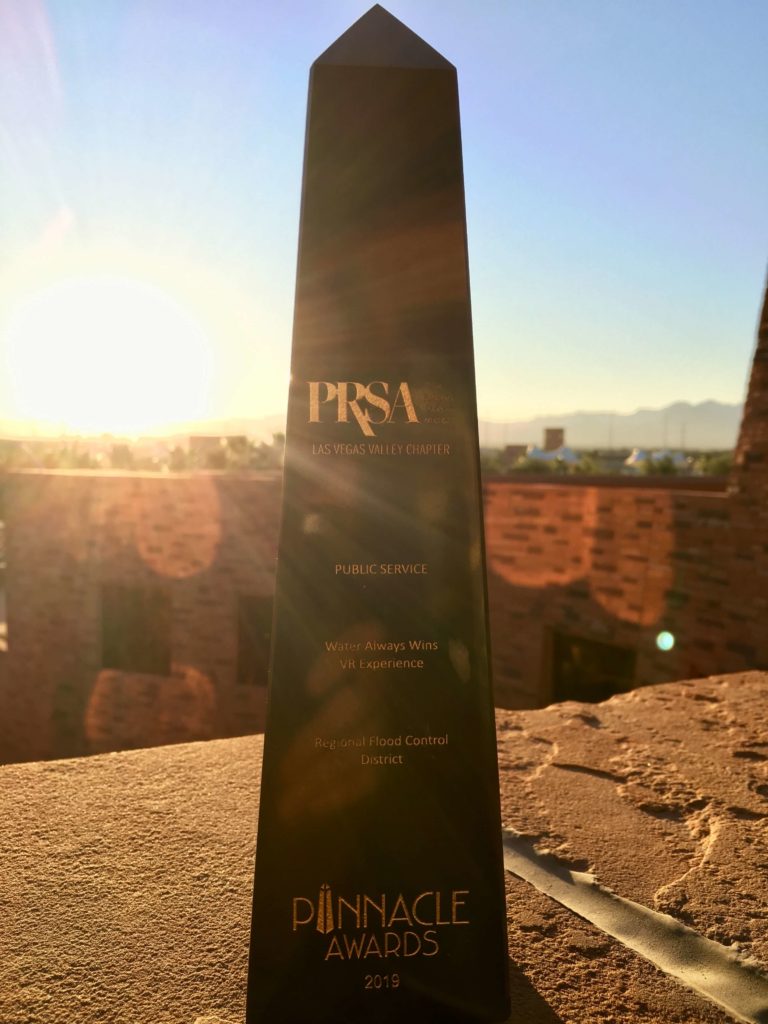 PSRA 2019 Pinnacle Awards
ABOUT THE PRSA LAS VEGAS VALLEY CHAPTER
The Public Relations Society of America (www.prsa.org), is the world's largest organization for public relations professionals. The Society has more than 31,000 professional and student members. PRSA is organized into 110 Chapters nationwide, 14 Professional Interest Sections, along with Affinity Groups, which represent business and industry, counseling firms, independent practitioners, military, government, associations, hospitals, schools, professional services firms and nonprofit organizations.
PUBLIC SERVICE CAMPAIGN
PINNACLE AWARD
"Water Always Wins VR Experience"
Clark County Regional Flood Control District: Erin Neff, Jessi Acuña
NEW DIGITAL PLATFORM
AWARD OF EXCELLENCE
"Water Always Wins VR"
Clark County Regional Flood Control: Erin Neff, Jessi Acuña, Steven Parrish, Ching Wang
Robertson and Partners: Thomas Madrid
Pixel Farm: Jenna Lowhorn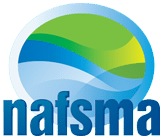 NAFSMA 2020 Excellence in Communications and Green Infrastructure Awards
ABOUT THE NATIONAL ASSOCIATION OF FLOOD AND STORMWATER MANAGEMENT AGENCIES (NAFSMA)
NAFSMA is an organization of public agencies whose function is the protection of lives, property and economic activity from the adverse impacts of storm and flood waters. The mission of the association is to advocate public policy, encourage technologies and conduct education programs which facilitate and enhance the achievement of the public service function of its members.
The National Association of Flood and Stormwater Management Agencies (NAFSMA) on December 14, 2020, announced the winners of its Excellence in Communications Awards and Stormwater Management Green Infrastructure Awards Program. The 2020 Excellence in Communications contest recognized the best outreach efforts in two Communication categories, Public Awareness of Flooding and Improving Water Quality.
PUBLIC AWARENESS OF FLOODING CAMPAIGN
FIRST PLACE – Public Awareness of Flooding – Campaign, Large Service Population
"Water Always Wins Virtual Reality Experience", Las Vegas, NV
Download Press Release (628KB, PDF Document)