How to view the VR Experience
Step 1: Click this link > Watch on YouTube
Step 2: Click and drag the mouse inside the video area to move the view 360 degrees
Step 1: Tap this link > Watch on YouTube
Step 2: Turn your device to landscape mode to view it fullscreen
Step 3: Keeping your device in front of you, move 360 degrees to experience the entire scene
Step 1: If you don't have it already, you'll need to download the YouTube app for your device first. 



( Google Play Store | Apple App Store)
Step 2: Tap this link > Watch on YouTube or scan the QR code to load the video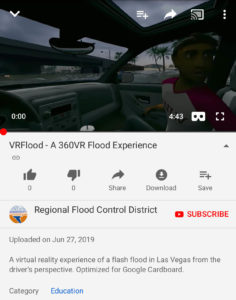 Step 3: Once the video is loaded, tap the VR icon (highlighted) to switch into VR mode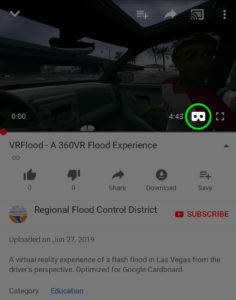 Step 4: Put your device into your Cardboard Viewer for the full experience
WARNING:
Some people may experience motion sickness, nausea, disorientation, blurred vision or other discomfort while viewing virtual reality content.
If you experience any of these symptoms, stop using immediately and remove the VR headset.
WHY FLOOD VR?
We're driving you through a virtual reality flood
so you never try it yourself in actual reality.
EDUCATE
Just a few inches of water can disable a vehicle of any size. Plus, the road beneath could be broken up or gone entirely.
PREPARE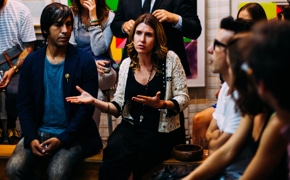 Slow down and exit the road safely as soon as possible. Find an alternative route. Do not attempt to drive through water.
EXPERIENCE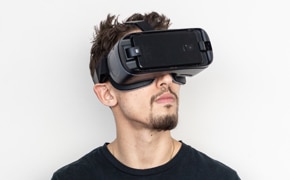 Take the immersive VR plunge into the great unknown. Summer monsoon rains can lead to a nightmare on the road.
TESTIMONIALS
What viewers have to say
OMG! This felt so real. It was scary! I'll for sure think twice before driving through a flooded street again!
I knew we had flooding in Vegas, but I had no idea it could be so bad. I'll be way more careful during flood season.
I know friends that take their trucks through flooded streets. I'm going to get them to watch this!